Club Street Social: where we had paninis for dinner
Labels: bistro, Bread, chinatown singapore, club street, hidden finds, panini, restaurants, sandwich, wines
·
Posted by

Sihan
at 4/09/2013 04:59:00 am


Located along Genmill lane, a little turn off the rowdy Club Street, Club Street Social has received raving reviews and attention due to it's decor and ambiance similar to the many speakeasies in New York's west village. Having not been to that part of the world before (though I'm dying for the opportunity to creep up), I was eager to fill myself in on the experience even if it might be a make-shift one.

True enough, stepping into the vicinity on a warm weekday night, the honey tone shades of the lights overhead beckoning a sort of ease into our mannerisms, I was instantly charmed. Gorgeous outfitting, mosaic tiled floors and fashionably old fashioned varnished bar counter tops. Stunning.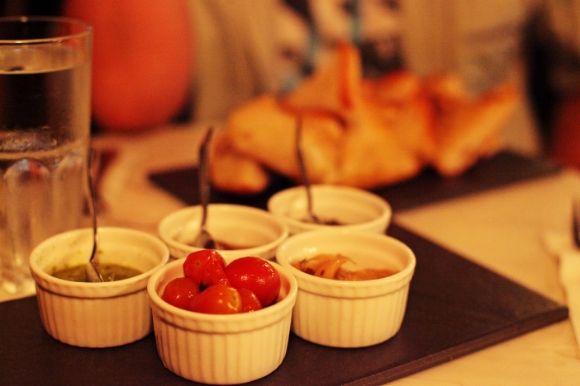 A quick perusal of the menu saw the bf and I ordering a pair of paninis and Toasted Ciabatta with dips ($12) for sharing.

With regards to food, Club Street Social gives a stellar performance with premium ingredients injected into basic fun fare. First things first, the ciabatta, also used in its paninis is a major super star; with a crisp outer crust giving way to airy pockets of yeasty goodness, it was a huge success serving as a medium for such obnoxious flavor pleasures. I had the pan seared lobster with avocado and yuzu mayo ($28) whereas he settled for the more humble salami, fontina and red peppers chutney ($15). The former was a treasure of all things creamy and luxurious, akin to an occasional treat of lobster thermidore rolled into a tight package. However, in the reality that we were stripped from the intoxicating ambience, the lobster panini plainly put was overpriced. I would have been better off with a burger from &Made. The latter, the salami panini wasn't big on flavor, save for the strangely addictive carb wrapper of a ciabatta.

That being said, Club Street Social leaves one at a major dilemma. I would have loved to have fallen in love with the place. Unfortunately, the quaint establishment falls short of expectations in the food department after having built a reputation high given its daring menu on top of it's less than minimal media exposure. Not a place I'll return to.




Club Street Social
5 Gemmill Ln Singapore 069261
Tel: 6225 5043
Website: http://www.clubstreetsocial.com/