Le Bistrot: classic or contemporary?
Labels: french, hidden finds, kallang, restaurants
·
Posted by

Sihan
at 4/04/2013 04:30:00 am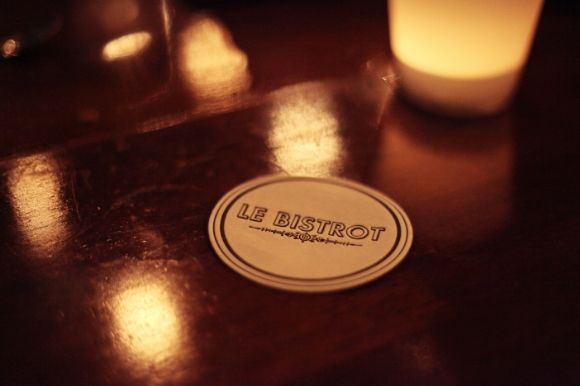 For whatever inchoate reason, dinner landed up being in Le Bistrot upon recommendation from the older brother. And in a spectacularly scattershot and eclectic approach, dinner plans saw me having a pint of beer alone along the Kallang river as the family trudged the course to the marine barrage.

After a short period of evaluating the curious dearth of bleak monotony at work despite the mundane work flow over my inspiring drink, it was return time to the dinner table with the family. Le Bistrot claims presents a classic french menu to its diners coupled with a casual environment. I was there with the intention to rock the boat.

Note: Portions are huge and between the four of us, we ordered 3 prix fixe sets($60 each) which entitles us to 3 entrees, 3 main courses and 3 desserts. So "value for money" wise, we were off to a good start.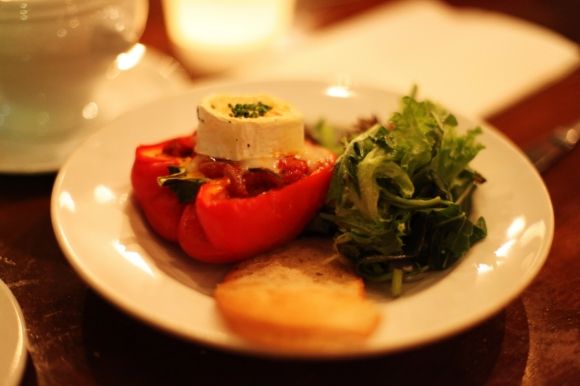 Poivron farci a la ratatouille, chevre marine grille - roasted red capsicum stuffed with ratatouille, served with lightly grilled marinated Sainte Maure goats cheese and mesclun salad. Best entree of the lot, love the combination of the creaminess of the goats cheese with the richness of the ratatouille.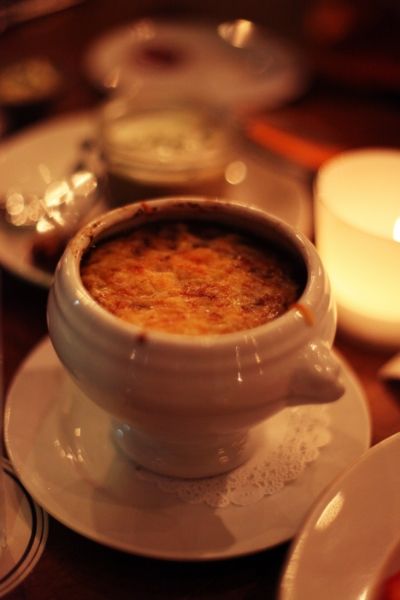 Soupe a l'oignon gratinee - traditional caramelized onion soup gratinated with emmenthal cheese. I'm going to be blunt here, forgettable, and overcompensating with a lack of portion control.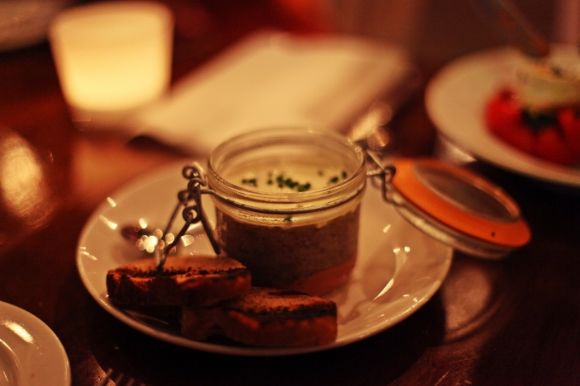 Caviar du pauvre (poor man's caviar) verrine of eggplant and garlic puree, chicken liver mousse and pernod creme fraiche served with char grilled bread. A strange tasting dish that I spent half the time sifting thru for the permeating acidity of chicken liver. Fortunately eggplant is on my list of favourite foods, so I happily dug into this rather neglected dish.



The mains arrived in orderly fashion at the table. First to be assessed was the Confit de cuisses de canard - duck leg confit with honey mustard vinaigrette and creamy potato puree. Highlight of the evening for sure. Crisp from the action of poaching in its own fats, the skin was an absolute delight to munch on, its flesh, a pompous affair of plumpness and succulence. I thoroughly enjoyed this dish.

I can't say the same for the Steak Frites with pink peppercorn beef jus served with pomme frites. With such a thick slab of meat at stake, our medium rare request resulted in a high percentage of rare doneness towards the middle of the steak. What a shame.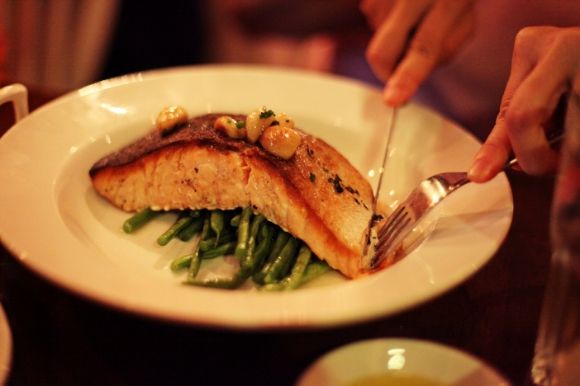 The last, Pan-seared Salmon fillet was a respectable attempt with gargantuan portion sizes once again. Done perfectly pink in the middle and served with haricot vert. I was pleased but not blown away.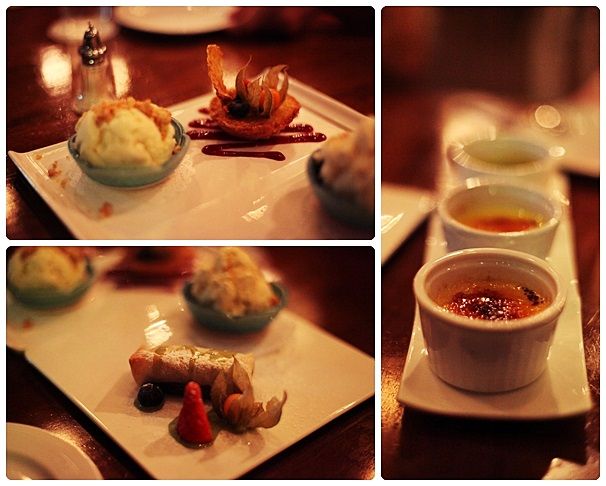 Desserts were an utter flop. The Tarte au citron bearing the taste of uncooked cornstarch, the lack of tartness reflecting a state of lazy cooking. The trio of creme brulee were acceptable with the pistachio raspberry flavor outshining the rest. The pastilla a la pistache et chocolate noir was an interesting dessert with a strudel like pastry encasing a warm filling of chocolate ganache and crunchy pistachios. But I shan't speak more of it.

To put things straight, Le Bistrot offers quality service but very sub-par food. Perhaps its my misconception of French fare, but I would think twice before putting my money on a meal here.



Le Bistrot
2 Stadium Walk, #01-03
Singapore Indoor Stadium