Mexout: Tacos are IN!!!
Labels: CBD, chinatown singapore, mexican, tacos
·
Posted by

Sihan
at 4/14/2013 07:07:00 am


The weekends have snuck up to us as quickly as the trend of Mexican food hitting a run in the local scenes. Following closely behind the launch of Mexican takeout joint Pistola (sister restaurant of Club Street Social) and Lucha Loco at Duxton Hill, is Mexout at Far East Square.

Located within the reaches of the office crowds, I was surprised to find the place packed on a Thursday night. Perhaps it is the draw factor created by the urban contemporary feel of the space or maybe it's the fresh ingredients being used with pride that keeps the joint busy. Whatever it was, it worked, the quirky yet fast-food like operations sealing the deal for me.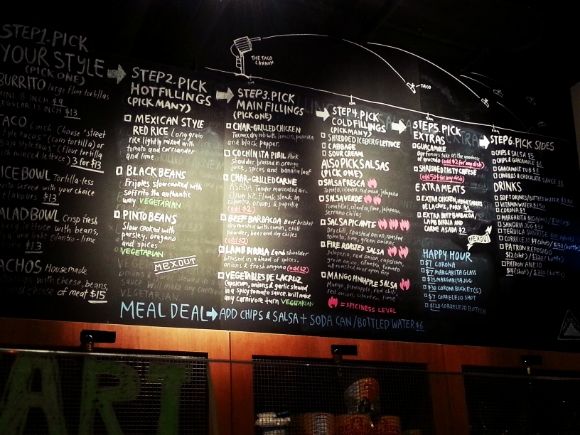 Click here for a better enlarged view.


Approaching the board, one can't help but feel intimated by the looming of options ahead. Thank goodness for the gentle prodding and guidance of the staff. The multi-step ordering process first involves selecting the base – burrito ($9/8-inch, $13/12-inch), warmed tacos ($13/three), or rice ($13, with tangy Mexican-style red rice) or salad ($13) bowls. I went ahead with the corn tacos (which skips you right by step 2), filled them up with cochinta pibil (pork shoulder braised in orange jus, spices and banana leaf), added lettuce and sour cream, a hot concoction of salsa verde for that edge and finally a little over-the-top reward of guacamole (additional $2) to pull the hefty package together.

Paired with a Corona ($7 at happy hours), I was all settled. The braised pork shoulder was delicious, it's smoky undertones complimenting the creamy freshness of the guacamole (one of the better versions I've had in Singapore thus far); on the other hand, my friend's filling of char grilled chicken was slightly disappointing with a close resemblance to tandoori chicken. Next time, I would probably pay the $2 supplement for the beef barbacoa – a cumin-laced brisket dry roasted in chills and beer.

All in all, an appropriate meal to set the tone for a night of rowdy fun.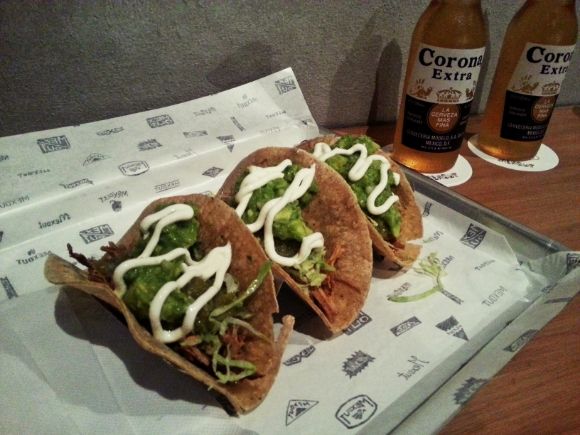 Mexout
#01-01 Far East Square
39 Pekin St 048769

opens: 11:30 - 22:00 on weekdays only
website: http://mexout.com/