Purple Mustard: It's got heart
Labels: comfortfoods, good eats around tanjong pagar, hidden finds, hotdogs, no frills, takeout, tanjong pagar
·
Posted by

Sihan
at 7/09/2013 11:19:00 pm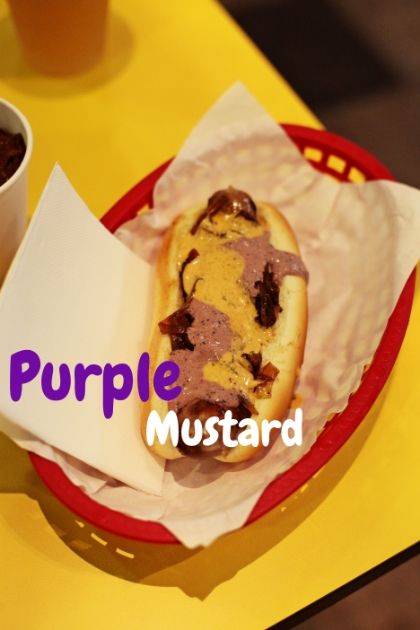 It was just one innocent glance. Then, envy struck me down with the weight of Thor's hammer. And yes, I'll admit, I am jealous. I am jealous of the boy from Oh Nom Nom Nom who sank his teeth into picturesque dogs from Purple Mustard. And as a result, I had to get in on the action.

All in time for International Hot Dog Day too on the 4th July. I swore it was absolutely unintentional.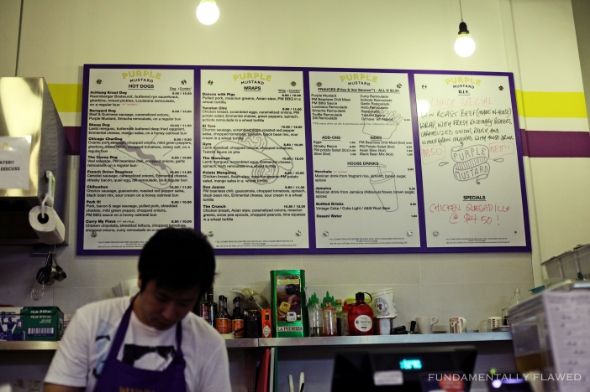 Purple Mustard is a no frills joint located at Icon Village @ Tanjong Pagar. With minimal seating and no elaborate decor so to speak of, the store steals the hearts of many wandering souls with it's gutsy sauces and innovative pairings, all dealt with the humble hot dog.

I opted for the signature Barnyard Dog ($9)which comes with a beef and Guinness sausage, caramelized onions, purple mustard and sriracha remoulade. I raped the poor beast of a dawg with my eyes first, my breathe stolen by its vibrant nature, the striking shade of purple caused by mixing Dijon mustard with whiskey soaked blueberries. The blueberries imparting a slight fruity perfume to the overall makeup of the sauce. This complimented the robustness of the firm savoury sausage sandwiched between the pillowy soft buns. And which each bite, I let out a painful moan of pleasure, as quietly as possible, to avoid my companion over hearing my exquisite love-making session with the unassuming fella. His combinations, power-packed and alarmingly alluring given it's humble beginnings from just a sausage and a bun (that I supposed was factory produced)

I added another $1 for the house drink of Lemongrass tea, a two way servant as a palate cleanser and a breathe freshener after the flavoursome ordeal.

Note: My friend's order of Beanless Chili Meat ($3.00)was excellent too so I suppose the Coney Dog would be a good option for the future. It's all out on the table now. Definitely worth a second, third and fourth visit! Check out their menu here!


Purple Mustard
Icon Village
12 Gopeng Street,
#01-31/32 ICON Village (near Tanjong Pagar MRT)
Tel: +65 6221 8498
Opening Hours: Mon–Fri: 11am – 9pm;
Sat: 12pm – 9pm (Closed on Sun)