Jin Shan Lou: Walk the talk please.
Labels: chinese, chinese food, food tasting, HGW, marina bay sands, porridge, restaurants
·
Posted by

Sihan
at 7/04/2013 07:47:00 am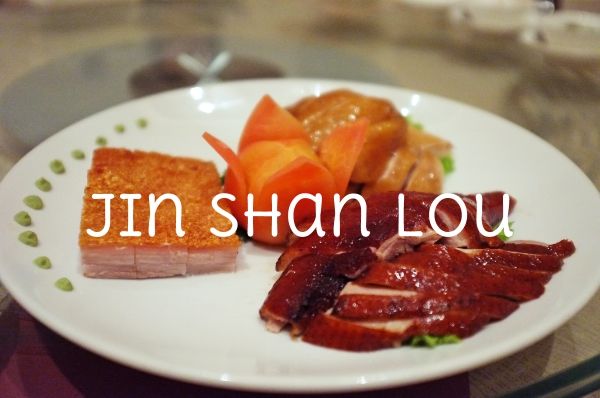 Jin Shan Lou located at the lobby of the Marina Bay Sands Hotel has an imposing opulence to it, perhaps it's just me, but dining within it's regal aesthetic surroundings made for a somewhat uncomfortable experience. Thank goodness for the velvety arm chairs that made the long dinner a little more tolerable.

The dinner was spotted by tiny glimmers of hope; take for example the Jin Shan Special Combination that warmed us off. The platter consisting of roast duck, roast pork and cold chicken; vanished quickly before our eyes as the lazy susan took two spins on the dance floor. My favourite was the roast duck with its beautifully crisped skin and succulent flesh. The chicken paled in comparison with a somewhat dry interior.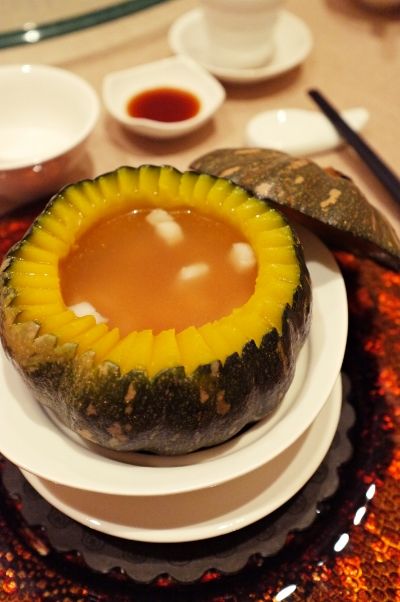 Our next course was a Seafood Soup served in mini Pumpkin, another excellent dish that was well thought and executed. Presentation was spot on with the mini pumpkin steamed to perfection, ready for the diners to scrape away at it's tender sweet flesh whilst slurping down the sweet seafood broth studded with generous bits of prawns and dried scallops.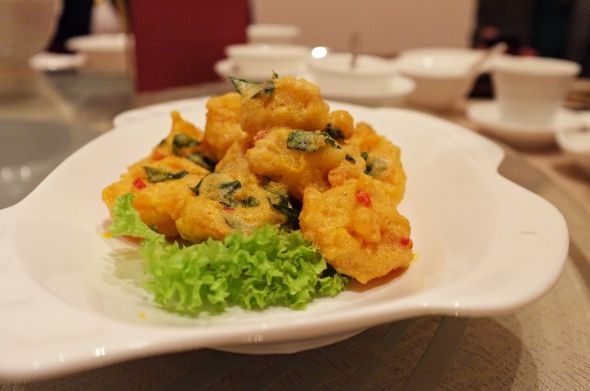 Pass up on the Golden Sands Fresh Prawn with Salted Egg, the batter on the prawns lack the tight crispness and the salted egg yolks sauce was grainy and strangely spicy at some points with the unsuspecting bits of chili padi conjuring up coughing fits amongst some of the diners.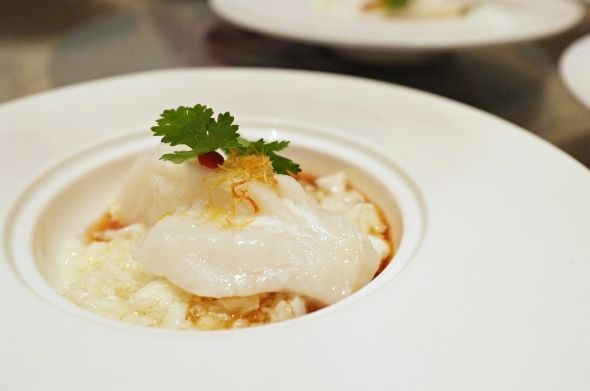 Instead, turn your attention to the Steamed Cod Fillet with Chinese Wine and Egg White , this dish, similar to the version I had at Crystal Jade presented itself with a replacement of more luxe ingredients. The Cod Fish sat like a dainty beauty atop a bed of fluffy egg whites steeped in chinese wine and a myriad of sauces, making for an explosion of umami with every mouthful. Definitely my favourite dish of the night.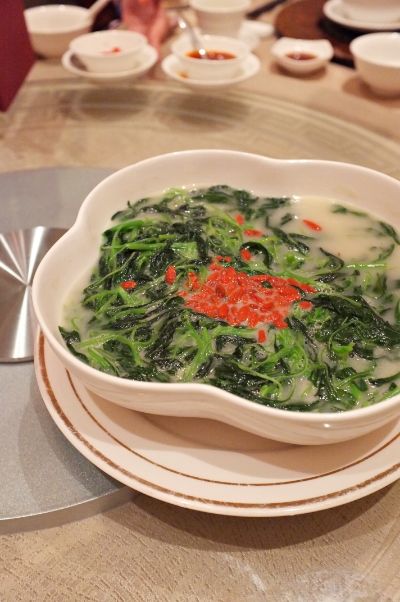 Cartilage Soup? My eyes trailed across the tasting menu, summoning a bit of doubt in me. Frankly, the Poached "Xian Cai" Served in Cartilage Soup turned out to be another winner, the cartilage adding a wee bit of milky silkiness to the broth. The balance of flavors and the soft greens making for a delightful experience.

The Mandatory carb dish at the end of our Chinese dinner was a Fujian Wheat Vermicelli with Shredded Meat. This dish despite it's simplicity, came with an extremely well balanced ratio of noodles to ingredients. The prawns, fried eggs and silvers of beansprouts adding a much needed contrast to the well seasoned noodles. Pity I didn't get to eat much of it warm...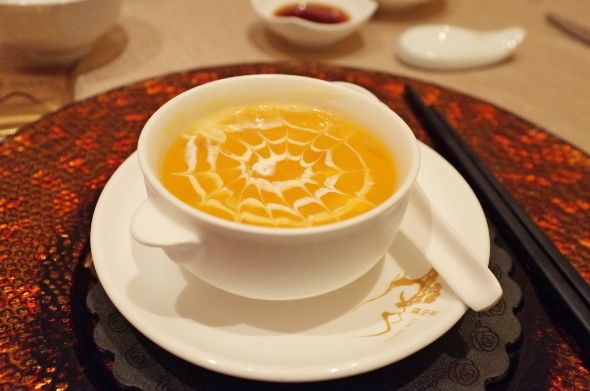 Dessert was a Chilled Mango Sago with Pomelo. Didn't fancy this dish much because it was way to sweet for me, almost akin to eating a bowl full of sweetened mango puree.

Based on the dinner tonight, Jin Shan Restaurant has many hits and misses. But without a doubt, one of it's major draw factor would be the ridiculous operating hours, opening from 11pm-4am daily. So all you night owls out there, this is a spot worth checking out!



Jin Shan Restaurant
Marina Bay Sands Hotel
1 Bayfront Avenue
L1-05, Tower 2 Hotel Lobby
+65 6688 7733