I am cow
Labels: cafe, food
·
Posted by

Sihan
at 6/13/2011 09:36:00 am


Just for a pre-warning, if you had painstakingly washed your hair before this meal, please don't make a fuss about the lingering smell after that. Let's just enjoy the meal shall we?




SoHo 7 cafe and bistro located at Armenian street, just a stone's throw away from SMU is a delightful addition to the growing amount of cafes in the region. Featuring their very own hand-roasted coffee with a variety of blends and single origin types, I was well impressed with the lovely red roaster cum grinder placed lovingly within the restaurant's small space. Not so impressive was the heavy stench of grilled patties circulating the still air. So much for grilled beef flavoured perfume...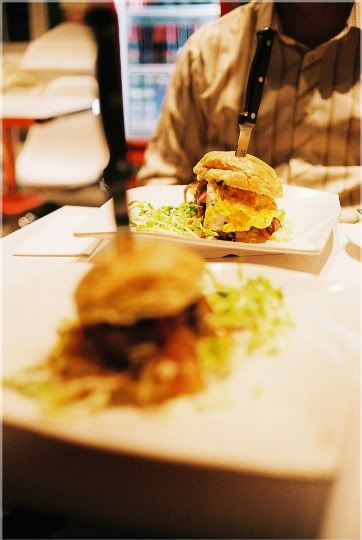 We set about ordering the SoHo Best ever burger ($9.70) and the Bacon Burger (alas, i forgot it's exact price and name even). Whilst my partner in crime, a.k.a burger assassin had a latte to go along, in active role as his willing accomplice. First of all, let's just admit that the coffee was delicious, albeit a little common in base notes but still excellent in composition and temperature. The signature SoHo burger looked fantastic in my opinion, it's moist and tantalizing split of components held down by the edge of a knife. Though my boyfriend partner in crime had some grips about the sloppy mess he created whilst attempting to eat it with his hands; I found its sauciness extremely attractive. Mainly because I was used to consuming this dish in a weirdly civilised manner (fork and knife). He did make a point though that a burger should always have buns firm and large enough to contain its contents without a major spill over occurring. Well, to each his own. I was well satisfied with the ethereally soft buns smothered in a mixture of barbeque sauce and mayo. The beef patty could have used a bit more seasoning and its innards giving tell tale signs of over-handling in the mix. Still, I dived in with gusto and finished the entire dish with a gregarious swipe of the plate. Darn that was good.



the burger assassin taking delight in his recent kill.
Photos courtesy of Howe (my newly acquired rangefinder, Canonet QL17. love it to bits!)
SoHo 7 Cafe and Bistro
36 Armenian Street, #01-08
Tel: +65 6634 5779