Let me be honest
Labels: cakes, recipes
·
Posted by

Sihan
at 6/08/2011 11:37:00 am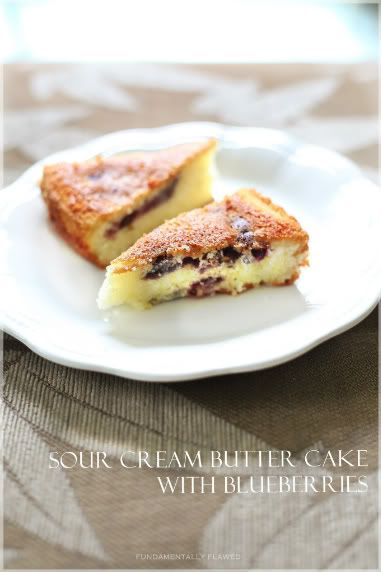 It's a good thing you're not here tonight. Especially YOU. You know who you are.

If you were here, you would bear witness to some really painful and juvenile night wear choices. My glistening face, from the sweat that peeled from my pores. Humidity... such a drag. The glamorous piling of dishes in the sink. You would have seen my dorky dance moves as the song 'give me everything tonight' blasted through the headphones. I have bras all over my bed. My table... let's not even go there.It's a good thing you're not here.

But after the emergence of the this beauty from the oven. I wish you were here to share it with me.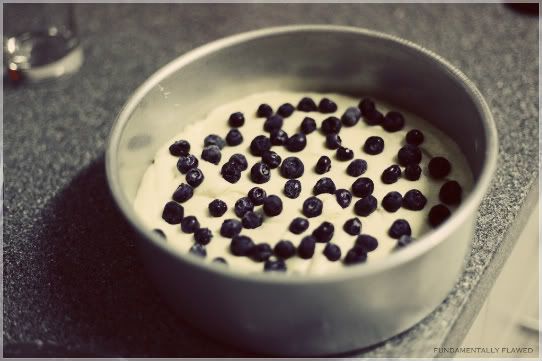 Frozen blueberries from way way back and sour cream from a recent baking endeavor. I just had to get down to clearing the fridge before my eventual move.

So a 'Wake-up-cake' was what it called for. A magnanimous and down-to-earth butter cake with flakes of vanilla beans sprinkled through. Like fairy dust. Did I tell you that I love polka dots. Those blueberry patterns certainly made my night.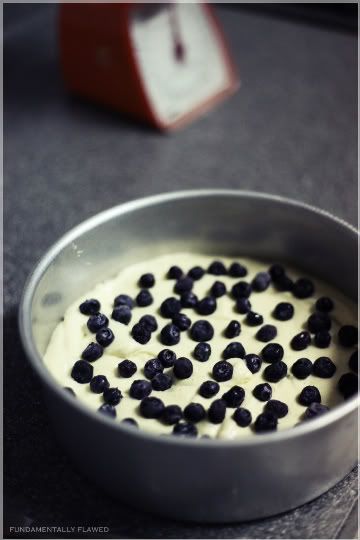 Berry blasts, spurts of rich purple. A crunchy crust.

Having you here is better of course. I'm thankful.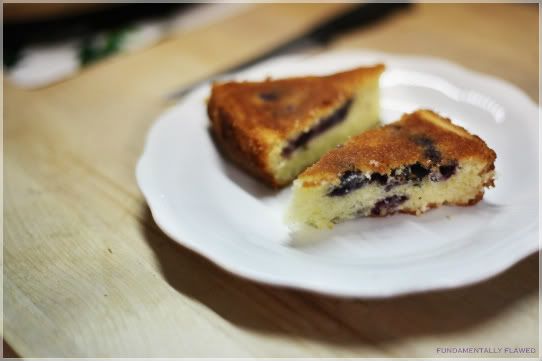 Sour Cream Butter Cake
recipe inspired by Bourke Street Bakery cookbook

makes a 8inch cake

125g unsalted butter
180g caster sugar
1 vanilla bean, scraped
2 eggs
100g sour cream
150g self raising flour, sifted
65g blueberries

1) preheat the oven to 200 degree celsius
2) Grease and line an 8 inch removable base tin.
3) Whisk the room temperature butter, caster sugar and vanilla bean till it is creamy and pale
4) Add one egg at a time, whisking for 20 seconds after each addition.
5) Add the flour and sour cream alternately in 2 batches. Starting and ending with flour.
6) Scrape the batter into the prepared pan and sprinkle the blueberries over the top.
7) Bake for 45 mins and remove from the oven onto a cooling rack once the cake is golden brown.
8) Cool completely and flip the cake over to serve!